I started writing this post last week and never finished it, so although we are a week into May, here's my update from last month...
April was my month of getting things done.
* I
finally
finished reading
The Corrections
after a year of off and on reading spurts. I love me some Franzen, but he is tough to get through! Now I have a long reading list I'm trying to get through this summer - see picture below.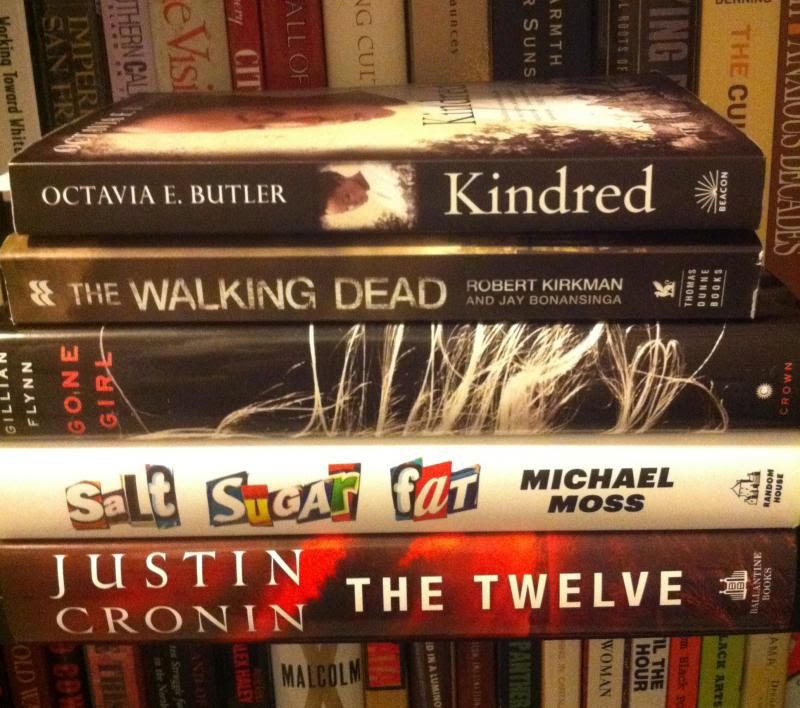 * I did my 100th workout of the year! My goal is to do 300 workouts in 2013 in hopes of being in great shape, well, just because! I've still been doing
sculpting classes
three days a week, a couple of regular hot yoga classes and a spin class or some other sort of cardio one day a week. A couple weeks ago I stared doing two
Insanity workouts
a week, two
scultping classes
and 2 yoga classes just to up my game a little. The Insanity really helps with my endurance in a way that yoga really can't but the hot yoga keeps my muscles loose. So far I've lost 15 pounds but haven't lost anything in the past month which is why I started doing some Insanity. I'm hoping I can lose 5 more pounds to get to my goal weight and from there it'll just be maintaining that weight. I'm so close!
* We finally bought our family pass to Fairyland (thanks to Living Social it was 50% off) and have already been there twice. I see a lot of Fairyland trips in our future.
* I blogged once or twice.
* I took on the role of Summer School Administrator at Belle's preschool and let me tell you, it's been like having a part time job! Every morning when Leo is napping I put on cartoons for William and spend a couple hours answering emails only to have a new batch to respond to during afternoon nap time.
* And I must be a masochist because I also agreed to be co-chair of the board at her school for the next school year.
* I'll tell you what I haven't done yet and that's my court ordered traffic school. I have one month left, I better get on it.
* Although I haven't come to terms with it, I did celebrate my little boy turning
one
! And of course ordered some adorable invitations. Every year I say it, but I think this year I picked the cutest invites for both kids' parties than I have before.
And now I'm off to tackle May!